250+ Web Development Project Ideas For Beginners
You might be feeling a mix of excitement and nervousness when trying to find a good website project idea.
Building a website can be really fun, and it's a chance to learn new things. But it can also be a bit overwhelming because you're not sure where to begin or what kind of project to pick.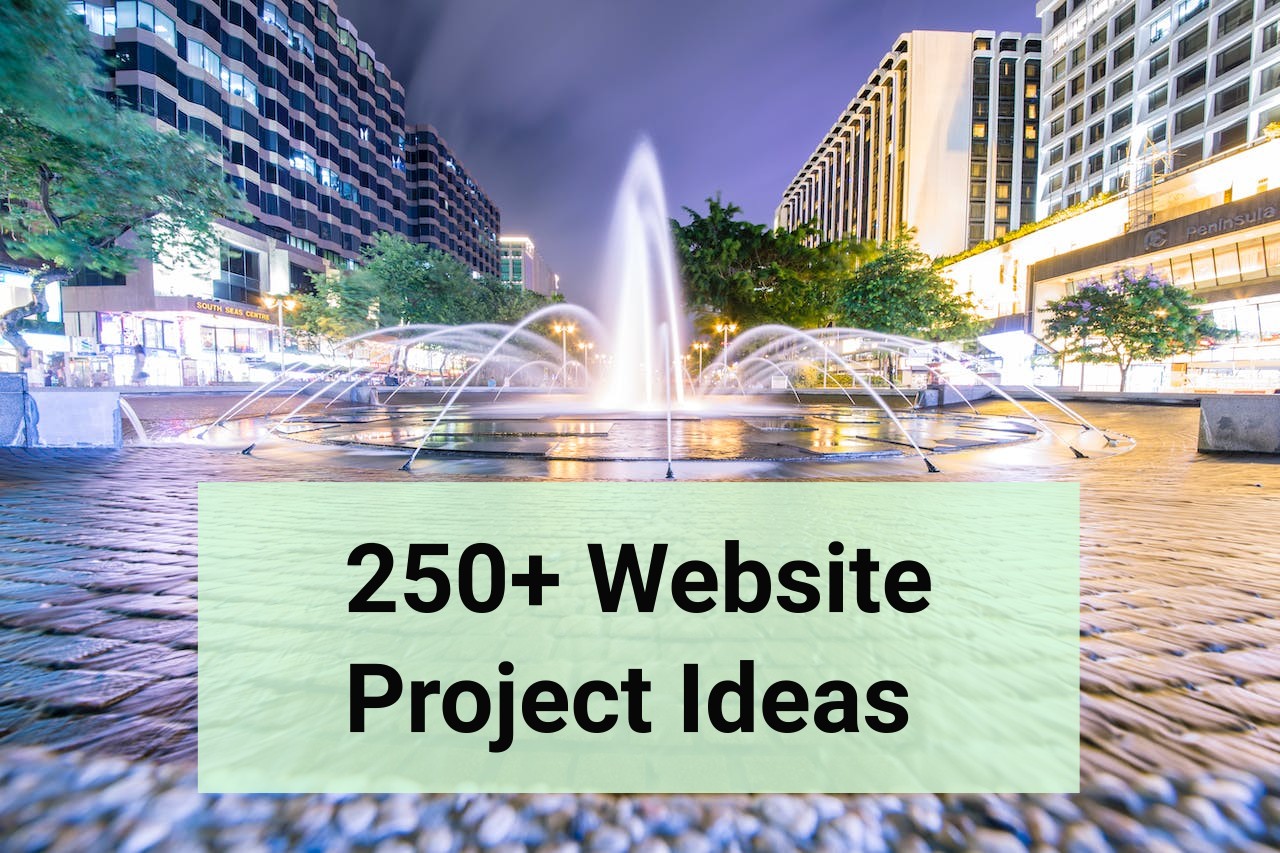 In this blog post, you'll get 100 website project ideas designed especially for beginners like you who want to get into web development(career or hobby). They'll help you get started and enjoy the journey of creating websites.
300 Website Project Ideas For Beginners
Personal Blog Site: Create a platform for writing and sharing your thoughts.
Recipe Database: Build a site to collect and share your favorite recipes.
Portfolio Website: Showcase your work, whether it's art, photography, or writing.
To-Do List App: Develop a digital to-do list for organizing tasks.
Weather App: Display real-time weather information for a location.
Quote Generator: Create a site that generates random inspirational quotes.
Restaurant Finder: Help users discover nearby restaurants.
Online Resume: Design an interactive online resume.
Trivia Quiz Game: Develop a quiz game with multiple-choice questions.
Countdown Timer: Build a timer for events or deadlines.
Book Collection: Manage and display your book collection.
Personal Diary: Create a private online diary.
Music Player: Develop a basic audio player for personal use.
Budget Tracker: Help users manage their finances.
Photo Gallery: Build a simple gallery for photos.
Contact Management: Manage and organize contacts.
E-commerce Product Page: Create a webpage for a fictional online store.
Daily Horoscope: Provide daily horoscope readings.
Task Scheduler: Create a scheduler for daily tasks.
Flashcard App: Develop a tool for learning with flashcards.
Quote of the Day: Share a new inspiring quote each day.
Event Calendar: Display and manage events on a calendar.
Meme Generator: Allow users to create and share memes.
Language Learning Site: Assist users in learning a new language.
Movie Recommendation: Suggest movies based on user preferences.
Travel Blog: Share travel experiences and recommendations.
News Aggregator: Aggregate news articles from various sources.
Calorie Tracker: Help users monitor their daily calorie intake.
Guestbook: Create a digital guestbook for events.
Digital Clock: Design a customizable digital clock.
Task Progress Tracker: Track the progress of ongoing projects.
Flashlight App: Turn the screen into a flashlight.
Music Lyrics Site: Display song lyrics and artist information.
Personal Finance Blog: Share financial tips and insights.
BMI Calculator: Calculate Body Mass Index (BMI) for users.
Language Translator: Provide text translation between languages.
Job Board: List job opportunities for a specific field.
Comic Strip Viewer: Read and organize your favorite comics.
Blog Comment System: Add comments to an existing blog.
Tic-Tac-Toe Game: Create a simple game of Tic-Tac-Toe.
Instant Messaging App: Build a basic chat application.
Image Cropper: Allow users to crop and edit images.
Virtual Pet: Develop a virtual pet to care for.
Flashcard Quiz Game: Quiz users using flashcards.
Local News Site: Share news specific to a local area.
Personal Journal: Create a digital journal with dated entries.
Tournament Bracket Generator: Generate brackets for competitions.
Online Calculator: Build a basic calculator for mathematical operations.
Restaurant Review Site: Rate and review local restaurants.
Greeting Card Generator: Design and send digital greeting cards.
Chatbot: Create a basic conversational chatbot.
Currency Converter: Convert currencies based on real-time rates.
Password Generator: Generate strong and secure passwords.
Music Playlist: Create and manage music playlists.
Audio Recorder: Record and play audio.
Geocaching App: Assist users in geocaching adventures.
Virtual Library: Catalog and manage a digital book collection.
Recipe Sharing: Allow users to share their recipes.
Productivity Timer: Develop a Pomodoro-style timer for productivity.
Pet Adoption Site: Feature pets available for adoption.
Polling App: Create polls and gather user opinions.
Social Media Feed: Simulate a simplified social media feed.
Quote Wall: Display a wall of user-submitted quotes.
Holiday Countdown: Count down to upcoming holidays.
Music Band Website: Build a site for a fictional music band.
Project Showcase: Share and discuss personal projects.
Real Estate Listings: List properties available for sale or rent.
Weather Forecast App: Provide extended weather forecasts.
News Ticker: Display scrolling news headlines.
Recipe Rating Site: Allow users to rate and review recipes.
Product Inventory: Manage and display product inventory.
Online Chess Game: Create a multiplayer chess game.
Social Profile Card: Design digital business cards.
Car Rental Service: Simulate a car rental service.
Interactive Map: Build a map with pins for specific locations.
Code Snippet Repository: Share and search for code snippets.
Sudoku Solver: Develop a Sudoku puzzle solver.
Travel Itinerary Planner: Plan and organize travel itineraries.
Motivational Quotes: Share daily motivational quotes.
Mailing List Signup: Allow users to subscribe to a newsletter.
Personal Budget Tracker: Track personal income and expenses.
Chess Tactics Trainer: Offer chess puzzles and tactics.
Time Zone Converter: Convert times between different time zones.
Local Event Calendar: Share local events and activities.
Recipe of the Day: Feature a new recipe daily.
Photography Portfolio: Showcase your photography work.
Movie Trailer Database: Watch and rate movie trailers.
Painting Gallery: Display and sell your digital artwork.
Language Flashcards: Learn new words in different languages.
Wishlist App: Create a digital wishlist for gift ideas.
Daily Planner: Organize daily tasks and schedules.
Task Timer: Time and record how long tasks take to complete.
Color Palette Generator: Generate color palettes for design.
Sports Score Tracker: Display live scores and game details.
Personal Dictionary: Store and search for personal words.
Flash Fiction Blog: Share short stories and flash fiction.
Online Countdown: Create countdown timers for various events.
Space Exploration Site: Explore the cosmos and learn about space.
Language Learning Flashcards: Learn new vocabulary.
Painting App: Develop a simple digital painting application.
Gardening Tips: Share gardening advice and tips.
Comic Strip Creator: Allow users to create their own comics.
Time Management Tool: Help users manage their time effectively.
Music Event Calendar: List upcoming concerts and events.
Joke Generator: Create a collection of jokes for a laugh.
Personal Growth Blog: Share personal development insights.
Book Recommendation: Suggest books based on user preferences.
Math Quiz Game: Develop math quizzes for different levels.
Recipe Finder: Help users find recipes based on ingredients.
Fitness Journal: Track workouts and fitness progress.
Online Whiteboard: Collaborate and draw on a virtual whiteboard.
Personal Fitness Trainer: Provide workout routines and tips.
Blog Comment System with Notifications: Enhance the blog comment system with email notifications.
Online Code Editor: Create an in-browser code editor.
Weather Comparison App: Compare weather conditions in different locations.
Language Pronunciation Guide: Help users learn correct pronunciation.
Travel Expense Tracker: Track expenses during trips.
Recipe Box with Shopping List: Save recipes and generate shopping lists.
Space Facts Site: Share interesting facts about space.
Educational Flashcards: Create flashcards for educational subjects.
Book Club Forum: Host discussions for book club members.
Lyric Analysis Site: Analyze song lyrics and their meanings.
Paint by Numbers: Develop a digital paint-by-numbers tool.
Event Ticket Booking: Allow users to book tickets for events.
Houseplant Care Guide: Provide care instructions for indoor plants.
Yoga Class Schedule: Display yoga class schedules and locations.
Math Solver: Solve mathematical equations and problems.
Cryptocurrency Portfolio Tracker: Track cryptocurrency investments.
Weekly Meal Planner: Plan meals for the week.
Password Manager: Securely store and manage passwords.
Educational Quiz Platform: Create quizzes on various subjects.
Virtual Zoo Tour: Explore a virtual zoo with animal information.
Bookstore Inventory: Manage a digital bookstore's inventory.
Art History Database: Explore famous artworks and artists.
Travel Blog with Maps: Share travel experiences with interactive maps.
Writing Prompts: Generate writing prompts for inspiration.
Coin Collection Catalog: Catalog and display a coin collection.
Language Translation Flashcards: Translate phrases between languages.
Online Storytelling: Collaboratively write stories with others.
Space News Aggregator: Collect news articles related to space.
Movie Reviews Site: Rate and review movies.
Music Theory Lessons: Provide music theory lessons and exercises.
Puzzle Game: Create a simple online puzzle game.
Drawing Challenge: Organize daily drawing challenges.
Business Directory: List local businesses and services.
Personal Cookbook: Store and organize your favorite recipes.
Text Adventure Game: Develop a text-based adventure game.
Currency Exchange Calculator: Calculate currency conversions.
World Clock: Display times from different cities worldwide.
Healthy Eating Blog: Share tips for a healthy lifestyle.
Daily Inspirational Videos: Feature motivational videos.
Chess Openings Database: Explore and learn chess openings.
Digital Postcards: Design and send digital postcards.
Blog with Audio Podcasts: Combine written content with podcasts.
Weather History Tracker: Display historical weather data.
Personal Budget Calculator: Help users manage their finances.
Flashcard Memory Game: Create a memory game with flashcards.
Science Experiments for Kids: Share simple science experiments.
Local Art Gallery: Showcase local artists and their work.
Guitar Chord Library: Learn and practice guitar chords.
Language Learning Chatbot: Practice conversations in a new language.
Book Review Blog: Share reviews of books you've read.
Gardening Journal: Keep track of your gardening activities.
Hiking Trail Guide: Provide information on hiking trails.
Productivity Tracker with Stats: Track and analyze daily productivity.
Math Tutorial Site: Offer math tutorials and explanations.
Recipe Video Collection: Curate cooking video tutorials.
Virtual Zoo Quiz: Create quizzes about animals in a virtual zoo.
Personal Development Planner: Plan self-improvement goals.
Cocktail Recipe Database: Share cocktail recipes and mixology.
Weather Forecast Comparison: Compare forecasts from different sources.
Famous Quotes Database: Collect quotes from famous individuals.
Digital Coloring Book: Offer online coloring pages for all ages.
Study Group Finder: Help students find study groups.
Travel Packing Checklist: Create checklists for different types of trips.
Coding Challenge Platform: Provide coding challenges and solutions.
Guitar Tab Archive: Share guitar tabs for songs and solos.
Language Learning Progress Tracker: Track language learning progress.
Personal Finance Calculator: Calculate personal finances and savings.
Music Recommendation Engine: Suggest music based on user preferences.
Family Recipe Collection: Compile and share family recipes.
Art Auction Platform: Simulate an online art auction.
Virtual Aquarium: Create a virtual aquarium with fish care tips.
DIY Home Improvement Blog: Share home improvement projects.
Mental Health Journal: Encourage mindfulness and mental well-being.
Sudoku Game Generator: Generate and play Sudoku puzzles.
Hiking Trail Map: Design interactive maps for hiking trails.
Online Storefront for Local Artisans: Sell handcrafted goods.
Music Instrument Tuner: Tune musical instruments online.
Language Vocabulary Builder: Expand vocabulary with word lists.
Personal Blog with Guest Posts: Feature guest writers on your blog.
Weather Forecast Comparison App: Compare forecasts for different locations.
Famous Paintings Gallery: Explore famous paintings and their artists.
Virtual Classroom: Create an online learning environment.
Digital Cookbook with Meal Plans: Plan meals and grocery lists.
Fitness Challenge Tracker: Track fitness challenges and goals.
Travel Expense Calculator: Calculate trip expenses and budgets.
Jigsaw Puzzle Game: Develop an online jigsaw puzzle game.
Painting Auction Platform: Simulate an online painting auction.
Personal Growth Journal: Reflect on personal growth and achievements.
Motivational Quote Generator: Inspire users with daily motivational quotes.
Coffee Recipe Collection: Share a collection of coffee recipes.
Comic Book Catalog: Organize and display your comic book collection.
Virtual Art Gallery: Showcase digital and traditional artwork.
Language Learning Games: Create interactive language learning games.
Music Album Review Blog: Write reviews of music albums.
Personalized News Aggregator: Customize news feeds for users.
Product Price Comparison: Compare prices for products online.
Virtual Plant Care Assistant: Offer care tips for indoor and outdoor plants.
Math Homework Helper: Provide step-by-step solutions to math problems.
Car Maintenance Tracker: Keep track of vehicle maintenance tasks.
Online Cookbook Club: Host a digital cookbook club with recipes.
Historical Event Timeline: Display historical events with timelines.
Educational Videos Platform: Share educational videos on various subjects.
Personal Writing Portfolio: Showcase your written works and articles.
Geography Quiz Game: Test users' knowledge of world geography.
Poetry Sharing Platform: Create a space for sharing and discussing poetry.
Online Art Supply Store: Simulate an online art supply shop.
Cryptocurrency News Site: Share news and updates on cryptocurrencies.
Local Musician Showcase: Feature local musicians and their music.
Movie Streaming Database: Display movie trailers and information.
Weather Radar Map: Show real-time weather radar for regions.
Plant Identification App: Identify plants from photos and descriptions.
Language Phrase Translator: Translate common phrases into various languages.
Daily Fun Facts: Share interesting facts and trivia daily.
Personal Video Blog (Vlog): Share video content and vlogs.
Space Exploration Game: Create an educational space exploration game.
Healthy Smoothie Recipes: Offer recipes for nutritious smoothies.
Personal Goal Tracker: Set and track personal goals and achievements.
Fashion Lookbook: Showcase fashion styles and outfits.
Sudoku Solver and Generator: Generate and solve Sudoku puzzles.
Tourist Guide for a City: Create a guide for a specific city or location.
Art and Craft Tutorials: Share DIY art and craft tutorials.
Science News Aggregator: Collect news articles on various scientific topics.
Personal Music Journal: Keep track of music preferences and reviews.
Space Exploration Blog: Write about space discoveries and explorations.
Book Cover Design Portfolio: Showcase book cover design projects.
Online Drawing Challenges: Organize drawing challenges for artists.
Coding Tutorial Blog: Provide coding tutorials and tips.
Cryptocurrency Portfolio Tracker with Alerts: Track and receive alerts about crypto investments.
Virtual Planetarium: Explore celestial bodies and constellations.
Meal Delivery Service Site: Simulate a meal delivery service.
Guitar Chord Progressions: Learn and practice chord progressions.
Foreign Language Movie Recommendations: Suggest foreign films with subtitles.
Meditation and Mindfulness App: Guide users in meditation and relaxation.
Sudoku Puzzle Solver and Generator: Create custom Sudoku puzzles.
Online Art Auction: Simulate an online art auction.
Math Problem Generator: Generate math problems for practice.
Personal Language Journal: Document language learning progress.
Travel Blog with Postcards: Share travel experiences with digital postcards.
Writing Collaboration Platform: Collaborate on writing projects.
Currency Exchange Rate History: Provide historical currency exchange rates.
Music Scale Trainer: Learn and practice musical scales.
Personal Finance Dashboard: Visualize and manage personal finances.
Movie Character Database: Explore and learn about movie characters.
Art Restoration Blog: Document and discuss art restoration projects.
Online Pet Adoption Portal: Facilitate pet adoption with profiles.
Digital Chess Clock: Use a digital clock for chess games.
Foreign Language Jokes: Share jokes in different languages.
Countdown to Special Events: Create countdowns for celebrations.
Local Farmers' Market Directory: List farmers' markets and vendors.
Math Learning Games for Kids: Develop math games for children.
Bookstore Recommendation Engine: Recommend books to readers.
DIY Craft Supply Store: Simulate an online craft supply shop.
Virtual Garden Planner: Plan and visualize garden layouts.
Language Learning Quiz App: Create language quizzes and tests.
Personal Growth Podcast: Host podcasts on self-improvement.
Personal Portfolio with Contact Form: Display work and a contact form.
Guitar Song Chords Library: Share chords for songs.
Language Flashcards for Kids: Teach children new words.
Recipe Ingredient Converter: Convert measurements for ingredients.
Weather History Database: Access historical weather data.
Movie Database with User Reviews: Add user reviews to movies.
Painting Restoration Blog: Document and discuss art restoration projects.
Personal Vision Board: Create a digital vision board for goals.
Audio Book Club: Discuss and listen to audio books.
Personal Budget Planner with Graphs: Visualize budget data.
Music Scale Reference Chart: Learn music scales easily.
Houseplant Identification App: Identify houseplants with photos.
Text-Based RPG Game: Build a text-based role-playing game.
Hiking and Camping Guide: Provide tips and information for outdoor trips.
Bookstore Reviews and Recommendations: Share book reviews and recommendations.
Personal Art Journal: Document your artistic journey.
Exercise Routine Generator: Create custom workout routines.
Travel Booking Comparison Site: Compare prices for travel bookings.
Daily Brain Teasers: Share daily brain teasers and puzzles.
Personal Blog with Comment Notifications: Enhance the blog with comment notifications.
Virtual Zoo Conservation: Raise awareness about endangered species.
Currency Exchange Rate Calculator: Calculate currency conversions.
Color Palette Designer: Create custom color palettes for design projects.
Travel Checklist Creator: Generate travel checklists.
Personal Poem Collection: Share your collection of poems.
Weather History Visualization: Visualize historical weather data.
Movie Quotes Database: Collect famous movie quotes.
Art Critique Community: Share and critique artwork.
Online Plant Nursery: Simulate an online plant nursery.
Cryptocurrency Price Alert: Set and receive cryptocurrency price alerts.
Local Music Event Calendar: List local music events and concerts.
Guitar Lessons for Beginners: Offer beginner guitar lessons.
Language Learning Game for Kids: Develop language games for children.
Once you pick a website project idea, you can proceed to the next step: building your website project idea using the 3 Methods web developers use to create websites.
Why Do You Need Practical Projects?
Learning web development is not just about understanding the theory; it's about applying your knowledge to create real, functional websites and web applications. Practical projects help you:
Gain hands-on experience: Theory is important, but practice is where you truly grasp the concepts.
Build a portfolio: Your portfolio is your digital resume, showcasing your skills to potential employers or clients.
Boost your confidence: Completing projects boosts your self-assurance, making you more proficient as a developer.
Problem-solving: Real-world projects come with challenges that teach you valuable problem-solving skills.
Explore your interests: Web development covers a broad spectrum of topics, allowing you to find your niche.
Front End Developer Newsletter
Receive a monthly Frontend Web Development newsletter.
Never any spam, easily unsubscribe any time.