Practical HTML, CSS and Javascript Projects for Beginners(Web Development Projects)
A list of Web Development projects you can create even if you only know HTML.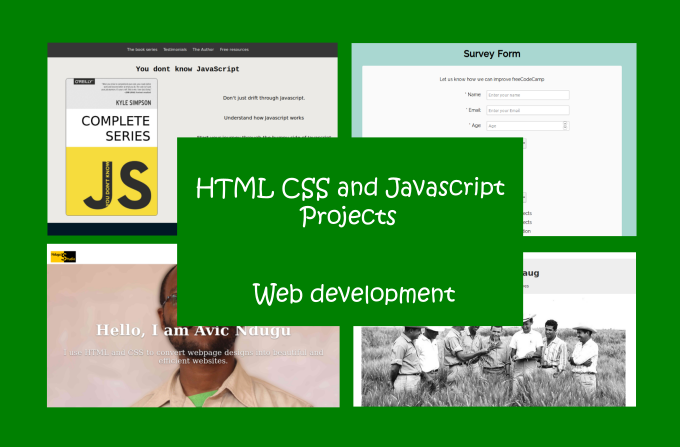 HTML Projects
A lot of people struggle with finding projects that they can complete using just HTML.
The first approach is to find pure HTML projects. If that is what you need, you can use the projects listed under HTML-only projects.
Tribute project page
Documentation page.(coming soon)
Business page.(coming soon)
NGO's page.(coming soon)
The second approach is to pick a project that will require both HTML and CSS skills.
Then, use your HTML skills to add the correct HTML markup and content to your webpage. Don't bother with the making the webpage look great(styling). That will require some CSS knowledge.
Later, you can learn some CSS, and then style the website look pretty.
HTML and CSS Projects
Once you have learnt some CSS, you can start making your web pages stand out and look great. Use some of these projects to continue testing and improving your skills.
Beginner Javascript Projects
Once you have some Javascript knowledge under your belt, you can attempt some of the following Javascript projects:
Sources
Thanks Florinpop for the Javascript projects collection. You can also visit his website
Freecodecamp: I highly recommend Freecodecamp's curricullum for anyone who wants to learn HTML, CSS and Javascript.
The Odin Project: They also have a curricullum that tackles Frontend and Backend web development.
Front End Developer Newsletter
Receive a monthly Frontend Web Development newsletter.
Never any spam, easily unsubscribe any time.